Daughter of James Edward and Urania (Gregg) McConnell
Ledger Notes: Age: 41 Yrs., 8 Mos., 6 Days Nativity: Oregon
Obituary: Sherwood News Sheet, February 6, 1914 Loved Citizen Passes Away
Last Friday just as the day was dying Miss Stella McConnell, who has been a constant sufferer for the last two years, succumbed to death.
Stella was born on the farm now owned by Mr. Frank Glossop, just about one-half mile from where she was breathed her last, on May 24, 1872. At time of death she was 41 years, 8 months and 6 days old. She is survived by a mother, two sisters and two brothers.
Services were held over her remains at the residence last Sunday at 12:30 P.M. Rev. John Foster, pastor of the Sherwood Congregational church had charge of the services and the singing was taken care of by all male voices. M.E. Buck had charge of the burial which took place in the Pleasant Hill cemetery shortly after the ceremonies at the house. The pall bearers were B.H. Tooze, Chester Tooze, John Owens, O.A. Todd, W. P. Fish and Will Smith.
As far as the writer has heard Stella had no known enemies, being a friend to everybody and everybody were her friends. She was kind, gentle hearted, even tempered and always willing to help those in trouble. The life she lived was a good one to emulate. The News-Sheet joins in sympathy with the bereaved relatives.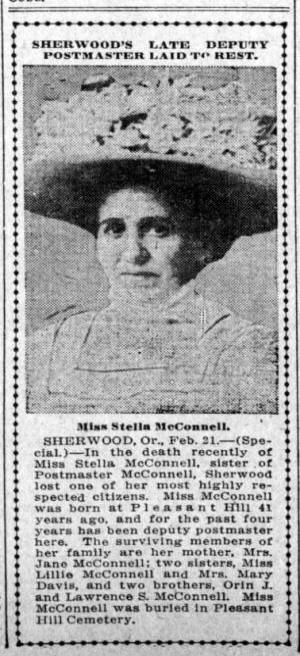 Sherwood Journal February 6,1914
Miss Stella M'Connell Dead
Well Known and Popular Lady Passes Away After a Long Illness
After an illness of more than two years Miss Stell McConnell passed away at 
the  home of her mother Mrs Jane McConnell last friday night at 8:45.the cause 
of death was heart trouble.the funeral was held Sunday from the home,Rev John 
Foster officiating.Internment at PLeasant Hill Cemetary.the choir of the local 
congregational church furnished appropriate music.
Miss McConnell was born at Pleasant Hill in May 1873 and at the time of her 
death was 41 years 8 months and 6 days old.For the past four years she has 
been deputy post master here. Everyone who knew her spoke in highest terms of 
her and she leaves hosts of friends to mourn her departure.
The remaining members of the family are her mother Mrs jane McConnell,two 
sisters Miss Lillie McConnell and Mrs mary Davis,and two brothers Orin J and 
Lawrence S McConnell.
The Journal extends its sincere sympathy to them in their bereavement.