Last Name: JOHNSTON
First: Nancy
Middle: Mahala
Lot # : 44
Plot # : 7
Gender: F
Birth Name: Beavert
Born: Feb. 9, 1871
Sherwood, OR
Died: May 14, 1958
Salem, OR
Burial Date: May 17, 1958
Ledger Notes: Age: 87 Yrs., 3 Mos., 5 Days Funeral: Ringo & Cornwell
Other Notes: In the ledger under "Johnson" First married name was Baillie; married William Johnston in 1905 in Multnomah County; sister of Mattie Beavert Young; daughter of Henry and Mary Beavert.
Obituary: Woodburn Independent, May 15, 1958
Mrs. Nancy M. Johnston
Funeral services for Mrs. Nancy M. Johnston, 87, former Woodburn resident who died Wednesday morning at a Salem hospital, will be conducted at 1:30 p.m. Saturday, May 17, at Ringo-Cornwell Funeral Chapel in Woodburn, Interment will be at Pleasant Hill cemetery between Wilsonville and Sherwood.
Mrs. Johnston was born February 9, 1871, near Sherwood and came to Woodburn in 1904. She remained until 1944 when she moved to Salem. She had been in the Salem hospital only a week.
She was a member of the Quaker church at one time and attended the Friends academy college. Her husband, William Johnston, died in Woodburn in 1930. Survivors include a son, William H. Baillie of Salem, five grandchildren and 11 great grandchildren.
Contributed by Vicki Bonagofski beavert53 at aol.com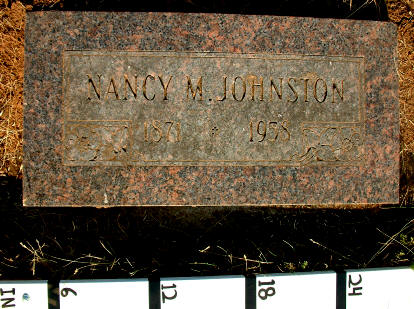 Monument Survey

Monument Material:
Granite monument with concrete apron

Auxiliary Stones:

None

Monument Problems:
Minor edge chips, apron is partly covered
Engraving:
Mint condition with some lichen
Illustrations:
Floral corner decorations

Flower Containers:

None
Other Remarks:
Matches the Wengenroth stone next to it.
Inscriptions, top looking from the East:
NANCY M. JOHNSTON
1871 1958
| | |
| --- | --- |
| Date Surveyed: 8-10-06 | Surveyor: C. Lehan |