Last Name:

Kelso

First:

Samuel

Middle:

M.

Lot # :

97

Plot # :

9

Gender:

M

Birth Name:

Born:

1853

Died:

Dec. 8, 1917

Burial Date:

Dec. 10, 1917

Ledger Notes:

64 Yrs. Funeral: W. W. Hollingsworth

Notes:

Possible Pioneer Husband of Clara Kelso


Obituary:

Tualatin Valley News, December 14, 1917
Samuel M. Kelso At his home south of Sherwood, Saturday, Dec. 8, at the age of 65.
Mr. Kelso was born in Chester County, Penn., and came to Oregon in 1879 or 1880, locating in Washington County. He had resided 27 years on the farm on which he died. He was married to Mrs. Kelso in Portland on Dec. 21, 1882. No children survive.
The funeral was held at Pleasant Hill cemetery, Monday at 10:30 A.M., the I.O.O.F. lodge having charge of the service.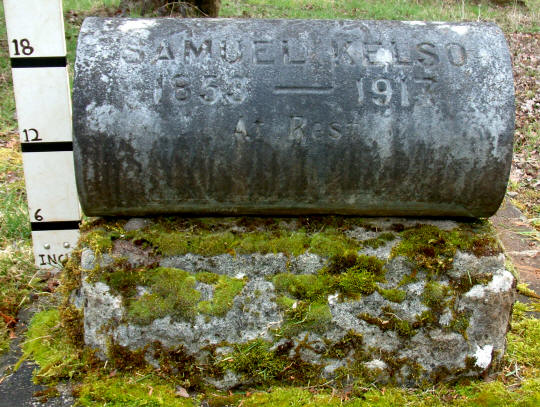 | | |
| --- | --- |
| Monument Material: | Round marble monument on sandstone base set on concrete apron that is part of the Kelso plot surround. Surround has Kelso engraved at the foot. |
| Auxiliary Stones: | None |
| Monument Problems: | Moss may become a problem on the sandstone base; monument was loose on the base, but was re-secured in 5/08 |
| Engraving: | Marble engravings are very worn, legibility somewhat reduced; floral decorations |
| Flower Containers: | None |
| Other Remarks: | |
Inscriptions, East face:


SAMUEL KELSO
1853 ---- 1917
At Rest
| | |
| --- | --- |
| Date Surveyed: 10-21-06 | Surveyor: C. Lehan |