Last Name:

SCOTT

First:

George

Middle:

Gordon, Jr.

Lot # :

261

Plot # :

2

Gender:

M

Birth Name:

Scott

Born:

12 Nov 1927

Died:

7 May 2012

Burial Date:

Ledger Notes:

Funeral: Attrell's

Notes:

WW II Veteran, U. S. Navy, South Pacific aircraft carrier


Obituary:

George Gordon Scott, Jr. Nov 12, 1927 - May 7, 2012
George Gordon Scott Jr., died on May 7 with his family by his side. He was 84 years old.
The youngest of five children, he was born in Columbus, Mont., on Nov. 12, 1927, to George Gordon Scott Sr. and Lucy Mary (Pool) Scott. Known as "GG" in his younger years, he graduated from Columbus High School in 1945 and enlisted in the U.S. Navy. Upon completion of his hitch on an aircraft carrier in the South Pacific, he worked as a railroad fireman and enrolled at the University of Montana, where he met his future wife, Mary Louise (Pinky) McCallie. After his graduation, they were married on June 26, 1953, in Billings, Mont., where they made a home. Both were proud supporters of the Griz for the rest of their lives.
In 1962, Mr. Scott took a job with Great Western Chemical Company in Portland, moving west with their two children, Patrick and Shannon. A third child, Erin, joined the mix in 1965. In 1968, the family settled in Sherwood, where Mr. Scott worked their 10 acres for almost 34 years, raising cows, horses, pigs and finally houses.
In 1981, Mrs. Scott died and Mr. Scott opted to stay on the farm and continue their "project". Foothills Estates was the culmination of their dream in 1994. In 1985, Mr. Scott remarried, bringing Cheryl Dreyer to the farm. In 2002, they moved off Foothills Estates to Woodhaven, where they shared many new endeavors, including Operation Babylift, a prison mother's clothes program, and numerous St. Francis Parish projects.
Surviving are his wife, Cheryl; sisters-in-law, Dorothy Scott of Portland and Patricia Hudson of Ridgecrest, Calif.; his son Patrick and his wife Cindy Scott of Silverton; daughter Shannon and her husband Gary Kelley of Newberg, son Erin Scott of Santa Monica, Calif., and Cheryl's daughter Rebecca Gifford of Beaverton; 11 grandchildren, five great-grandchildren and numerous nephews and nieces.
Preceding him in death were his parents; his brothers Chester and James; and sisters Frances and Grace. Services were in the care of Attrell's Sherwood Funeral Chapel. The family of George Gordon Scott Jr. asks that contributions in his name be made to the American Heart Association and/or Mt. Angel Abbey.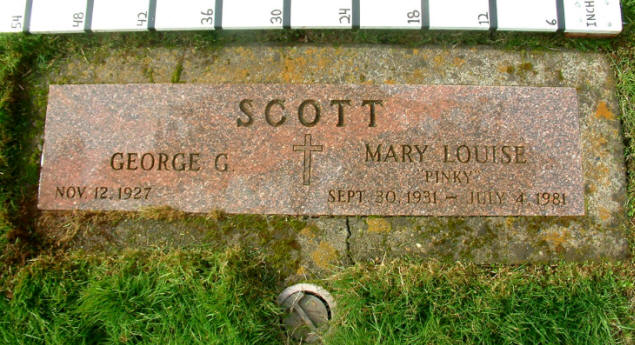 | | |
| --- | --- |
| Monument Material: | Granite monument on concrete apron |
| Auxiliary Stones: | None |
| Monument Problems: | Minor sinking, cracked apron |
| Engraving: | Mint |
| Illustrations: | Cross |
| Flower Containers: | One holder & cup |
| Other Remarks: | |
Inscriptions, top reading from the East:


SCOTT
GEORGE G.
NOV. 12, 1927

MARY LOUISE
"PINKY"
SEPT. 30, 1931 -- JULY 4, 1981
| | |
| --- | --- |
| Date Surveyed: 11-11-07 | Surveyor: C. Lehan |