Last Name: PARROTT
First: James
Middle: Allen
Lot # : 210
Plot # : 6
Gender: M
Birth Name:
Born: 1881
Died: 1966
Burial Date: Aug. 4, 1966
Ledger Notes: Funeral: Mannenbach and Attrell Funeral
Obituary: Newberg Graphic, August 4, 1966
JAMES A PARROTT FUNERAL THURSDAY
Funeral services for James A. Parrott, 84, of Sherwood and Ladd Hill, will be Thursday, Aug. 4, 10:30 a.m. at Mannenbach-Attrell Sherwood Funeral Chapel. Interment will be at Pleasant Hill cemetery near Sherwood. Elery Parrish of Portland and a minister of the Christian church will officiate. He had been in ill health for a year and passed away August 2 a the Newberg Care Home.
James Allen Parrott was born the son of James and Martha Parrott Sept 30, 1881 in Clackamas county near Sherwood. He lived all of his life in the Ladd Hill and Sherwood areas, being interested in different types of general farming. He was a charter member of the Ladd Hill Commercial club.
Surviving are three sons, Louis of Rainier, Ore., Earl and Lloyd, both of Sherwood; two brothers, Richard of Newberg, and Lewis of Salem; 12 grandchildren and 22 great-grand-children. A daughter, Martha Mae Wetzel, died in 1943.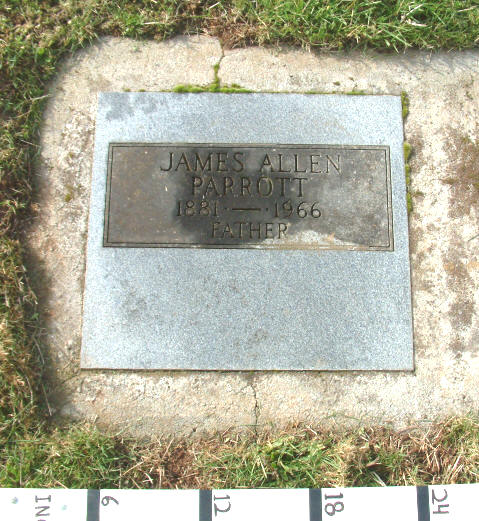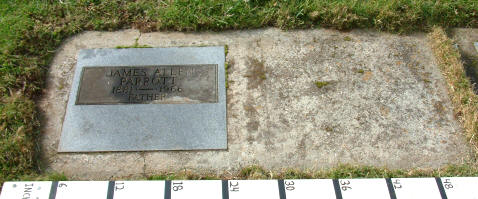 Monument Survey

Monument Material:
Granite monument and concrete apron

Auxiliary Stones:

None

Monument Problems:
Minor apron cracking
Engraving:
Mint condition, some lichen
Illustrations:
None

Flower Containers:

None
Other Remarks:
Inscriptions, top reading from the East:

JAMES ALLEN
PARROTT
1881 - 1966
FATHER
| | |
| --- | --- |
| Date Surveyed: 2-23-08 | Surveyor: C. Lehan |