Last Name: PARRETT
First: Aubrey
Middle:

Lot # : 81

Plot # : 4

Gender: M
Birth Name:
| | | |
| --- | --- | --- |
| Born: March 26, 1904 | Died: April 29, 1918 | Burial Date: May 1, 1918 |
Ledger Notes: Age: 14 Yrs. Nativity: Oregon Funeral: Hodson & Elliott
Notes: Ledger lists these two as Dana and Aubrey Parrott, but their monuments both say Parrett.
Family Contribution: Brother of Dana Parrett, son of Richard Parrett (1854-1921) and Mary Alice (Vinson) Parrett (1867 -1844). Richard Parrett was one of the two youngest children, born on Parrett Mountain in Oregon, of Samuel Parrett & Maria (Everest) Parrett, listed here in the ledger as Mariah Quinn, a later married name.
Obituary: Tualatin Valley News, May 3, 1918 Aubery Parrett
Aubery, youngest son of Mr. and Mrs. Richard Parrett, passed away at the home of his grandparents, Mr. and Mrs. J. E. Vinson of Middleton, Monday, April 29th.
He was born on Parrett Mountain, March 26, 1904, being at his death 14 yrs. 1 month and 3 days. He attended school at the Parrett Mountain school, and was a loved member of the Fernwood Band. He was of a cheerful disposition, ever thoughtful of others, and was loved by all who knew him.
Funeral services were conducted at the Baptist church at Middleton, by Rev. Hicks of the Christian church of Newberg, interment in the Pleasant Hill Cemetery. He leaves to mourn his death, Father and mother, two brothers, Robert and Dana Parrett, three sisters, Mrs. John Smith, Bertha and Velma Parett all of Parrett Mountain, besides many other relatives and dear friends.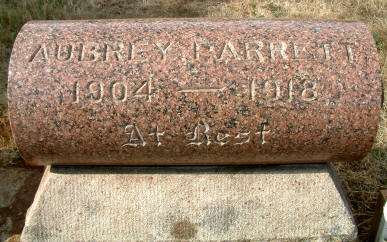 Monument Survey

Monument Material:
Granite monument and sandstone base on a concrete apron

Auxiliary Stones:

None

Monument Problems:
Was loose and off-center, but was re-set and secured in 5/08; cracked base
Engraving:
Mint condition
Illustrations:
None

Flower Containers:

None
Other Remarks:
These two stones share the same apron and are clearly a set so I have treated them as a joint monument. Notice that one has a granite base and the other a sandstone base.
Inscriptions, facing East:
DANA G. PARRETT
1898 - 1930
At Rest
AUBREY PARRETT
1904 --- 1918
At Rest
| | |
| --- | --- |
| Date Surveyed: 10-07-06 | Surveyor: C. Lehan |