Last Name: HOSMER
First: Jennie
Middle: Alice
Lot # : 156
Plot # : 5
Gender: F
Birth Name: Tidd
Born: Dec. 28, 1857
Died: July 31, 1928
Burial Date: Aug. 2, 1928
Ledger Notes: Age: 70 Yrs., 7 Mos., 5 Days Funeral: W. W. Hollingsworth
Other Notes: Wife of Wesley Hosmer; Mother of Annie (Sherk)
Obituary: Sherwood Valley News, August 2, 1928
CHRISTIAN WOMAN ANSWERS THE CALL Mrs. Wesley Hosmer Dies After Long Illness
Mrs. Wesley Hosmer, 70, died at her home in this city at 9'clock Tuesday night, July 31, after an illness of several months duration. Funeral services were held at the M. E. Church at 2 o'clock this afternoon, Rev. C. A. Pickering preaching the sermon. Interment was in Hood View cemetery.
Jennie Alice Tidd was born at Holliston, Mass, December 28, 1857. In 1860, she moved with the family to Independence, Iowa, becoming one of the pioneers of that part of the Middle West. In 1904 she moved to Sherwood. She is survived by her husband, Wesley Hosmer; her daughter, Mrs. A. E. Sherk; her son, E. D. Hosmer; and six children, all of Sherwood; a brother H. H. Tidd, of Independence, Iowa and one niece, Mrs. Zella Olsen, of Portland.
Her life was marked by her devoted work in Christian activities. she served as teacher or superintendent in the Sunday Schools of the Methodist church almost continuously for over fifty years. During that time she and her husband organized new Sunday Schools in three different communities. She helped for years in maintaining the missionary societies and other organizations of the church. She was a member for over twenty-five years of the Woman's Christian Temperance Union, during part of that time serving as president of the Eugene Union and of the Lane County Union. In 1916 she was made an honorary life member of the Oregon State Union.
Her faithful services in the Sherwood Methodist Sunday School will be remembered by the many children who attended the primary department during the past eight years, and by members with whom she worked.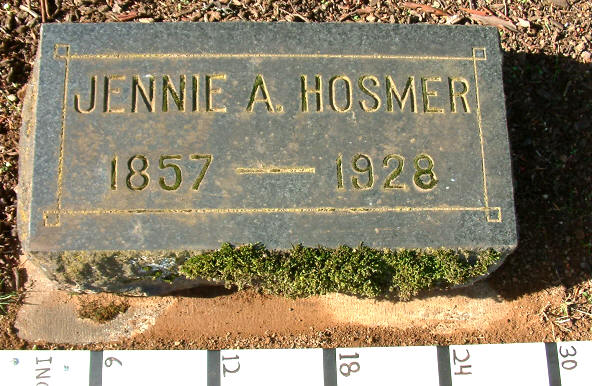 Monument Survey

Monument Material:
Granite monument and base; no apparent apron

Auxiliary Stones:

None

Monument Problems:
Sunken, base is nearly covered
Engraving:
Mint condition, with some lichen and moss
Illustrations:
Decorative border

Flower Containers:

None
Other Remarks:
Inscriptions, top reading from the East:

JENNIE A. HOSMER
1857 ------ 1928
| | |
| --- | --- |
| Date Surveyed: 12-28-07 | Surveyor: C. Lehan |