People are generally filed here by the name they had when they were buried, so women who marry - especially more than once - may not be readily apparent as relatives. Or they may be elsewhere in the cemetery under another married name. You can check first names and dates to see if those match the person you are looking for. Try the Site Search below to search by first names (or by any other term). Of course this will be easier if you are looking for Hilda than if you are looking for Mary!
Pleasant View Cemetery Site Search ►
Unmarked Graves
Checking the block map is especially important because it shows burials without a monument as well as those with monuments. It will also indicate who shares a monument with someone else. There are between 200 and 300 missing monuments at Pleasant View, a combination of those lost or deteriorated over time and those who never received a permanent marker. Early burials were recorded as "south half of Lot 25" or sometimes just "Lot 25", so for those without a marker, the exact location within the family plot may be an estimation. We do occasionally find missing monuments that have just sunk below the sod, and when we do, that information gets updated.
Additional Family Members
If your genealogy research is based heavily on census records (Ancestry.com, for instance), keep in mind that children who are born and die within one ten-year census reporting period will never appear in any census. The family cemetery plot is often the only place to find evidence of these additional family members who belong in the family tree. Infants and young children are often next to their grandparents since their parents and siblings probably outlived them by many decades and may have been buried elsewhere.
On-going Data Management
As any researcher knows, data from different sources is often not in agreement. Even monuments carved in stone have been known to be in error! Information on this site comes from the following sources, any of which may, or may not, agree with each other or with the information you have, so you will have to use your best judgment as to its veracity:
1) Monuments - There are photos and transcriptions for each one with the date of the last survey. This next year (2018) I plan to do a full re-survey that will pick up recent monuments, new inscriptions, and monument repairs completed since the last survey date.
2) Ledger Notes - I have transcribed these exactly as they appear in the original ledger, but the ledger's completeness and accuracy varies. In some cases individuals did not make it into the ledger at all.
3) Obituaries - When people find obituaries in newspaper archives, they are often kind enough to pass them along to me. I post them, with their source when I have it. Obituaries often contain a wealth of information, but they are not infallible either.
4) Family Contributions and Remembrances - When people send them, I generally identify them as such and post them as is, without further verification. This includes photos as well.
5) My Own Research - As I work with Ancestry.com and discover maiden names that can help identify relationships, I have been adding those, as well as verifying other information and relationships.
Your Assistance is Appreciated
If you come across information that I can add to any of these individuals please send it along with directions for who it should be posted with. A scanned .jpg file or text that I can simply copy and paste under a specific individual is best. If you discover obvious errors that I have made - entering the wrong century for instance, or someone who seems to have been buried before they died - by all means let me know so I can correct it! You can email it to me here:
Charlotte Lehan, PVC Webmaster
Other Cemeteries to Consider -
The chart below indicates some of the family connections among area cemeteries. Pleasant View Cemetery is by far the largest of these historic cemeteries that we know share multiple family connections. Champoeg and Butteville are south, just across the Willamette River from PVC. Before 1920, the Willamette was the primary means of travel in the Valley, so there were lots of connections across the river. St. Paul Catholic is in St. Paul and is the oldest Catholic cemetery in the Northwest, so it draws from a wide area.
Gibbs, Middleton, St. Paul Lutheran, and Maple Lane are to the northwest, in the Sherwood area. Meridian and Robert Bird, which is adjacent to Stafford Baptist, are to the northeast in the Wilsonville-Stafford area. Winona is north in Tualatin. Philip Foster is far to the east in Eagle Creek, but for early pioneers, the Philip Foster Farm, like Champoeg and Butteville, was an important way station for travelers. Several very early pioneer names like Case and Bell occur at Philip Foster and at PVC and Champoeg. Geer is an early family cemetery across from Butteville that has family connections to several other cemeteries.
Besides the local cemeteries, there is Willamette National in Portland, the large military cemetery where veterans and their spouses from throughout Oregon might be found if you can't locate them with the rest of their local family.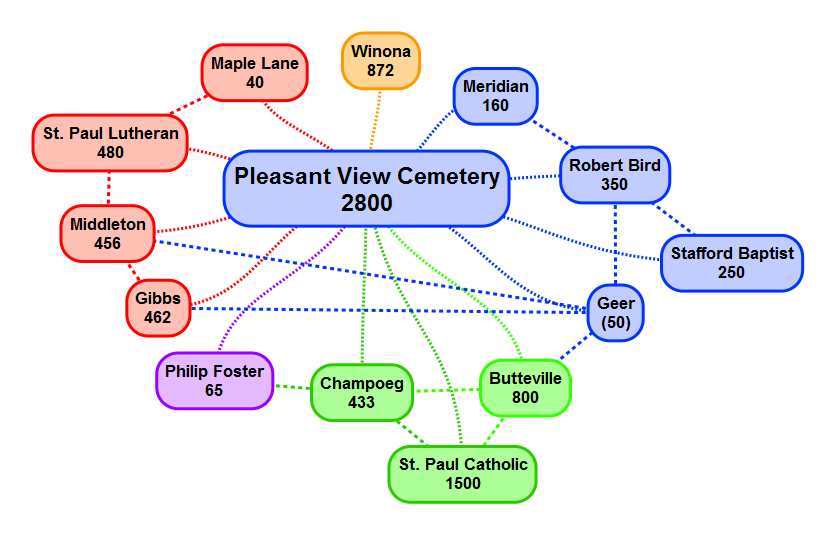 Happy Researching!
If you did not get an annual meeting notice in the mail, it is because we don't have a current address for you.
To send us your address - email, regular mail, or both - click here.