Last Name: LICHTENTHALER
First: Harrison
Middle: B.
Lot # : 19
Plot # : 4
Gender: M
Birth Name:
Born: Feb. 10, 1839
Died: Oct. 9, 1906
Burial Date: Oct. 11, 1906
Ledger Notes: Age: 67 Yrs., 8 Mos. Nativity: Pennsylvania
Other Notes: Oregon Pioneer of 1853. Father of Ernest, Martin, Harry, Nettie, and Nellie. Of the six family members on this monument, only the father, Harrison, is recorded in the ledgers. The mother, Auregene, and three children, Martin, Harry, and Nellie all died in 1878. Another child, Nettie, died in 1867. Only Ernest survived to adulthood.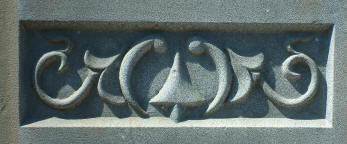 Monument Survey

Monument Material:
Zinc monument and plinth on a concrete base

Auxiliary Stones:

Zinc "FATHER" footstone on concrete base

Monument Problems:
Base is cracked; West plate was broken into and is cracked; West and South plates have replacement screws
Engraving:
Mint condition, all on relief; last name in twig letters
Illustrations:
Bells, vines, other decorations

Flower Containers:

None
Other Remarks:
This spectacular monument is the tallest and most ornate zinc monument in the cemetery.
Inscriptions:
HARRISON B.
LICHTENTHALER
A PIONEER OF 1853.
BORN IN
PENNSYLVANIA
FEB. 10, 1889,
DIED OCT.9, 1906.
AGED 67 YRS. 8
MOS. 1 DAY
NELLIE MARY
BORN NOV. 4, 1873,
DIED SEPT. 22, 1878.
AGED 5 YRS. 10 MO. 18 DAS.
______

NETTIE MAY
BORN FEB. 7, 1867,
DIED FEB. 8, 1867.
AGED 1 DAY.
AUREGENE
ST. JOHN
WIFE OF
HARRISON B.
LICHTENTHALER
BORN
DEC. 5, 1849.
DIED
OCT. 19, 1878.
AGED 29 YRS.
10 MO. 14 DAYS.
MARTIN DAVID
BORN NOV. 28, 1870,
DIED SEPT. 16, 1878.
AGED 7 YRS. 9 MO. 18 DYS.
________

HARRY BEM
BORN FEB. 2, 1877,
DIED NOV. 3, 1878.
AGED 1 YR. 8MO. 1 DAY
LICHTENTHALER
LICHTENTHALER
LICHTENTHALER
LICHTENTHALER
| | |
| --- | --- |
| Date Surveyed: 9-02-07 | Surveyor: C. Lehan |