| | | |
| --- | --- | --- |
| Last Name: GUECK | First: Diane | Middle: Elizabeth Clare |

| | | | |
| --- | --- | --- | --- |
| Lot # : 288 | Plot # : 12 | Gender: F | Birth Name: Henderson |

Born:
April 23, 1941
Died:
Nov. 11, 2008
Burial Date:
Nov. 14, 2008


Ledger Notes: Funeral: Young's
Obituary: Diane Elizabeth Clare Henderson was born April 23, 1941 as the first of three children to Robert Walter James Henderson and Clara Kathleen Ivie Foster-Henderson of Bristol, England. At an early age, Diane exhibited a keen interest in horses, but as the family was not well off, it was a struggle to find the money to allow her to take riding lessons.


Nevertheless by the age of 12, her parents finally agreed to let her help out at a nearby stables and it didn't take long before the stable master noted Diane's special talent with horses. Diane was soon riding and training jumping horses and steeplechasers, participating in local competitions and bringing home red ribbons (red is for first place in England) from all over the countryside. By the age of 16 Diane saved up enough money to buy her first horse, a bay mare named Sheba whom Diane showed in pony hunter trials.

Diane graduated from Bristol Central Commercial School and was near the top of her class academically, but her real focus remained on attaining honors on horseback rather than in the classroom. On one occasion, she competed in two shows on a single day and she sent her sister along to the next show grounds whilst she finished up at the first show. Upon arrival she found her sister Moira happily celebrating second place, but Diane said "Second is no good, why didn't you get first!" That was her competitive spirit; go in to win and never be second best, and that's the way she lived her life.

In 1961, Diane decided to immigrate to the United States. She took up knitting to raise money for the trip and sold her stamp album. She also sold her sister's stamp album (unbeknownst to her sister). Her mother gave her enough money to buy a return ticket should Diane decide to return home, but when Diane sold her horse, the family realized Diane was not planning to return. She arrived in America, expecting the Empire State Building, but instead found herself in the middle of "Cowboy" country. Klamath Falls, Oregon was a far cry from New York City in the early sixties, but Diane's Aunt Molly was living there and she gave Diane a place to call home. It didn't take Diane long to spend the money her mom had given her to buy a horse!

She came to America with just two suitcases and a couple hundred dollars, and from those humble beginnings she lived her American Dream from that moment on. True to her English heritage, Diane ordered a cutback (English) saddle from Sears Roebuck. In those days, no one in Klamath Falls had ever heard of an "English" Saddle and the cowboys around town guffawed, and ribbed her about the "postage stamp" she was riding on. But that didn't stop her and she soon organized a horse show and had those cowboys competing in the ring! Gayle Gueck was one of those cowboys, and on February 23, 1963 they married and she became Diane Gueck. In 1965 Gayle and Diane moved to Hillsboro, Oregon so that Gayle could attend Portland State University where he eventually received his degree in Accounting. In 1968 Diane had a son, Stephen, and in 1970 a daughter, Sharon.

After her children were born, Diane was training Saddle-bred & Arabian horses when she ran into a gentleman who would change her life. His name was Louis Tippet and he asked her to train his horse. Diane asked him what kind of horse it was and he told her it was a Tennessee Walker. Diane replied by telling him that she had never even heard of a Tennessee Walker, and furthermore, didn't know the first thing about training one. Mr. Tippet's pivotal reply was simply, "now's your chance to learn." He also indicated that he was interested only in riding at field trials. Diane's husband Gayle, however, said to Louis, "just wait. she'll have you in the show ring in six months!" Well, it only took three. He went on to become one of the most prominent supporters of the Tennessee Walking Horse breed on the West Coast.

In 1970, Diane decided to open her own stables which she named Cheveaux Training Stables (Cheveaux is French for horses). Her husband, Gayle and her son Stephen spent many years building the facility which grew larger and larger each year as Diane's influence and popularity grew. In 1976 Sid Maddux, then President of the Tennessee Walking Horse Breeders Association, was attending a show where Diane's 6 year old daughter Sharon was riding.
He was so impressed that he made a comment that he would have to send her a horse. Diane didn't think anything of it at the time, just figuring it was idle talk, but in early November she got a call from Louis Tippet telling her to come and pick up her yearling filly. Diane said, "what filly?" and he said, "the one that Sid sent to you". That filly turned out to be Wonder Lady's Delight, whom Sharon rode under Diane's tutelage to become a 3 time World Grand Champion Plantation Horse. That put CTS on the map and the stables expanded again with Diane having upwards of 25 horses in the barn at times.

Diane was very much self taught in the ways of training the Tennessee Walker. By putting together her natural talent with horses and the skills she had learned over the course of her career, she managed to rise to the top of the industry both by coaching riders and personally winning numerous International Championships, including 7 Supreme Versatility Championships,
31 World Championships, 2 Reserve World Grand Championships, and 3 World Grand Championships, with such horses as Wonder Lady's Delight, Dance The Night Away, Gold Fever, An Irish Sensation, Generator's Rock & Roll, A Beam Come True, and Magic's Pride & Joy, who herself won 26 world championship titles and was the first ever Celebration Super Horse, both in 1990 & 1991.

In 1989 after living in the United States for 28 years, Diane obtained her U.S. Citizenship. She was so proud to become a citizen, and for months afterwards, shared her experience with her friends and clients. At Thanksgiving Dinner that year, she sang "Proud To Be An American" (written by Lee Greenwood) for the family with great emotion and feeling. As an American, Diane believed that everyone who was willing to work should be afforded the chance to succeed. Young girls in particular were drawn to the stables, and Diane would put them to work earning their riding lessons. She provided the transportation, boarding, riding clothing, and the opportunity to ride a horse in the show ring to anyone that was willing to work hard and earn their way. She demanded perfection from her barn girls and in return they developed self esteem, confidence, and poise. She taught them to value their worth as women, to be strong and graceful, and she provided a stable environment for young people to learn and grow in. Some of them have gone on to become horse trainers themselves, others have gone on to be house wives, and still others are tackling the business world. She was the ultimate teacher and she has inspired generations of her students to work hard, be confident, and to succeed.

While Diane's passion was for her horses she also had a great love of Jack Russell Terriers. As a young boy, her son received a Jack Russell puppy from a family friend. The puppy became very attached to Diane, and she to the puppy. Over the years, Diane owned many Jack Russell's, each one having a special place in her heart. She raised several litters of puppies and carefully selected homes for each puppy to ensure the dog would have a good home. She also amassed quite a collection of Jack Russell statuettes, blankets, stuffed animals and anything which had a picture of a JR would be lovingly procured for her.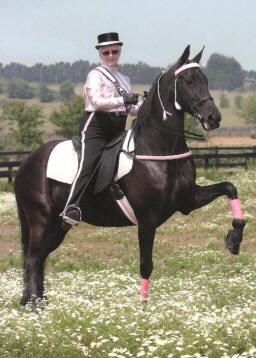 She also had a special horse. A Beam Come True, also known as Trudy, was Diane's dream horse. An unbreakable bond developed between horse and rider which Diane had felt with no other horse. When Diane was diagnosed with Breast Cancer in 1991, Trudy helped by giving her a reason to carry on with the difficult treatments. She and Trudy orchestrated a beautiful "Horse Dancing" routine, an intricate combination of riding and tricks set to music, which she and Trudy performed to the delight of many crowded arenas around the Pacific Northwest and California. In the final years of her life, Diane raised thousands of dollars to fund research for a cure to Breast Cancer, even representing Wrangler Pro Rodeo's "Tough Enough to Wear Pink" Campaign at the Grand National Rodeo in the Spring of 2008.

In 2005, Diane was inducted into the Northwest Saddlebred Hall of Fame for her work with that breed and in 2008, she was inducted into the Tennessee Walking Horse National Celebration Hall of Fame. In 2008, she was further honored by the State of Tennessee for all she has done for the Tennessee Walking Horse Breed. Other achievements include winning the Northwest Walking Horse Trainers Association's 'Trainer of the Year' award twice, and in 2006 she achieved the High Point Trainer award for the Pacific Northwest region. Diane also judged the equitation and trail classes at the Tennessee Walking Horse National Celebration in 1991, has produced seven training videos, and given training seminars both in the United States and abroad.

Diane was an inspiration to her children, her family, her friends, her fellow horse trainers, her clients, and to her students. She will be greatly missed by many.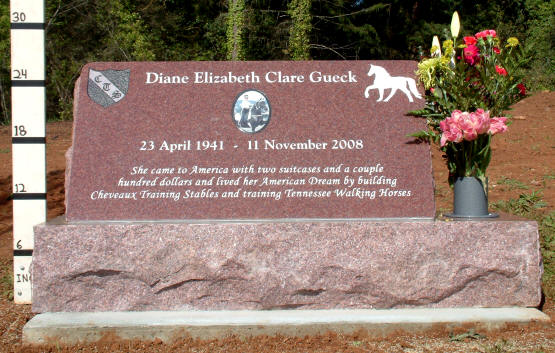 Monument Survey

Monument Material:
Granite monument and base on concrete apron

Auxiliary Stones:

None
Monument Problems:
None
Engraving:
Mint condition
Illustrations:
Cheveaux Training Stables insignia, horse, and photo

Flower Containers:

One container with cup
Other Remarks:
Flowering tree planted nearby
Inscriptions


Diane Elizabeth Clare Gueck

23 April 1941 - 11 November 2008

She came to America with two suitcases and a couple
hundred dollars and lived her American Dream by building
Cheveaux Training Stables and training Tennessee Walking Horses
| | |
| --- | --- |
| Date Surveyed: 5-01-09 | Surveyor: C. Lehan |