Last Name: CAMEHL
First: Elizabeth
Middle:

Lot # : 62

Plot # : 2

Gender: F
Birth Name:
| | | |
| --- | --- | --- |
| Born: Sept. 25, 1831 | Died: Nov. 29, 1917 | Burial Date: Dec. 2, 1917 |
Notes: Likely Pioneer Wife of Christian Camehl;
Mother of Ida (Wendling), Herman, Ernest, & Albert
Ledger Notes: Age: 86 Yrs. Nativity: Germany Funeral: W. W. Hollingsworth
Obituary: Tualatin Valley News, December 7, 1917
Mrs. Elizabeth Camehl, an old resident of this community, died at the home of her daughter, Mrs. Wendling, in Portland, last Thursday night. The cause of her death was paralysis, having received the stroke a week previous.
Mrs. Camehl was 86 years old and came to Oregon and this community in 1890. She was a member of the Hood Congregational church, a devout Christian, and a kind neighbor and a loving and indulgent wife and mother, and the memory of her will always remain sweet. Her husband preceded her to the grave about 7 years ago. Four children survive, as follows: H. C. Camehl, E. W. Camehl, A. W. Camehl and Mrs. T. G. Wendling.
The funeral services were held Sunday afternoon at the Hood View church, Rev. J. M. Barber officiated. interment was made in the Hood View cemetery.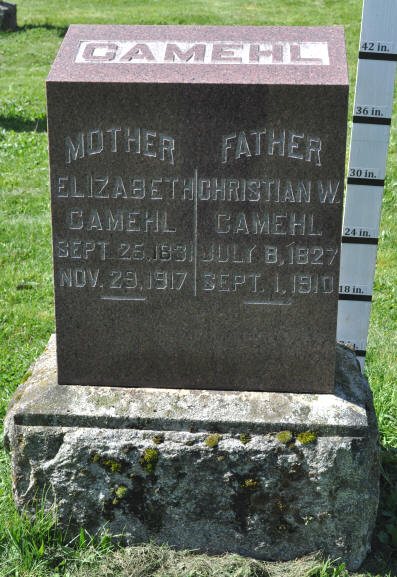 Monument Survey

Monument Material:
Granite monument and base

Auxiliary Stones:

None

Monument Problems:
Monument was loose, but was re-secured in 5/08
Engraving:
Mint condition
Illustrations:
Base is carved

Flower Containers:

None
Other Remarks:
Cleaned with D2 in 2015
Inscription, top looking from the East: CAMEHL

Inscriptions, East Face:

MOTHER
ELIZABETH
CAMEHL
SEPT. 25, 1831
NOV. 29, 1917

FATHER
CHRISTIAN W.
CAMEHL
JULY 8, 1827
SEPT. 1, 1910
| | |
| --- | --- |
| Date Surveyed: 3-29-15 | Surveyor: C. Lehan |